PENINGKATAN KOMPETENSI PEDAGOGIK GURU PADA PERENCANAAN PENILAIAN HARIAN MELALUI SUPERVISI AKADEMIK DISKUSI KELOMPOK
Cholita Sadmi Suwarsini

SD 3 Panggang Bambanglipuro Bantul, Indonesia
Abstract
This study aims to improve the teacher's performance on pedagogic competence of daily assessment planning through academic supervision of group discussion at SD 3 Panggang Academic Year 2017/2018 semester 1. This research was conducted at SD 3 Panggang Bambanglipuro. This research is a reflection which has been done in 2 cycles. The research subjects are classroom teachers and subject teachers. The activities in this research consist of the stage of action planning, action implementation, observation and reflection. The technique which the researcher used to collect the data is by using observation technique, and assignment. For the observation instrument, the researcher uses the teacher's appraisal tool (APKG) in the form of 4 instruments (basic competence mapping, design form & assessment techniques, grating making, and compilation of questions). The data analysis which the researcher uses is a comparative descriptive analysis technique. The quantitative data obtained is described in words or explanatory form. Subsequent data comparations were made to ensure that there was an improvement in teacher capacity in daily assessment planning. The result of the research shows that the findings of the group's academic supervision can improve teacher pedagogic competence in daily assessment planning at SD 3 Panggang Bambanglipuro Bantul in the academic year of 2017/2018 semester 1 of 28%.
Keywords:
daily assessment planning, academic supervision of group discussions
PDF Downloads
Download data is not yet available.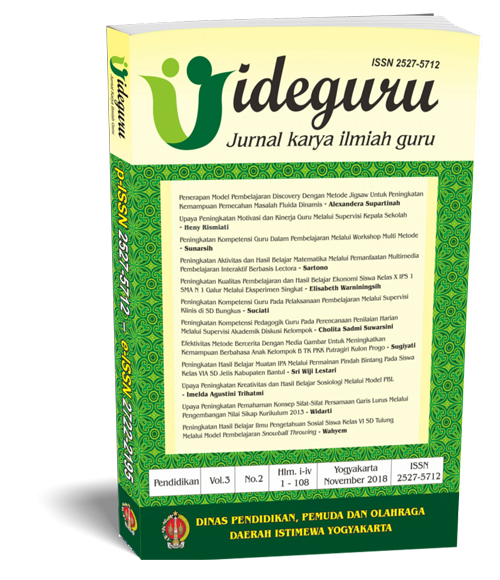 How to Cite:
Cholita Sadmi Suwarsini. (2018). PENINGKATAN KOMPETENSI PEDAGOGIK GURU PADA PERENCANAAN PENILAIAN HARIAN MELALUI SUPERVISI AKADEMIK DISKUSI KELOMPOK. Ideguru: Jurnal Karya Ilmiah Guru, 3(2), 48-58. Retrieved from https://jurnal-dikpora.jogjaprov.go.id/index.php/jurnalideguru/article/view/56
Section
Research Articles

Abstract viewed: 165 times

PDF downloaded: 216 times