PENINGKATAN KOMPETENSI GURU DALAM PEMBELAJARAN MELALUI WORKSHOP MULTI METODE
Sunarsih Sunarsih

SD Sawahan, Jetis, Bantul, Indonesia
Abstract
This School Action Research aims to improve teacher competence in learning as well as to increase teacher activities in carrying out their duties. This study applied a multi-method workshop with teacher classical and group approach at Sawahan Elementary School. Subjects of this study was SD N Sawahan, Jetis District, Bantul Regency. The instrument in this study was observation, and the data analysis techniques was descriptive quantitative. Results of this study showed that teacher competency before the study was 9.1%, which was increased to 45.45% after this multi methods school action research was carried out in the first cycle. In the second cycle it became 63.63% so that there was an increase in teacher competency. The increase from the initial conditions to the first cycle experiencing was 36.35%, from the first cycle to the second cycle was 18.18%. Meanwhile the teacher activities in the initial condition was 9.1%, and became 45.45% in the second cycle, and then increased to 63.63% in the second cycle. After this study, the student activities increased 18.18%.
Keywords:
teacher competence, multi-method workshop
PDF Downloads
Download data is not yet available.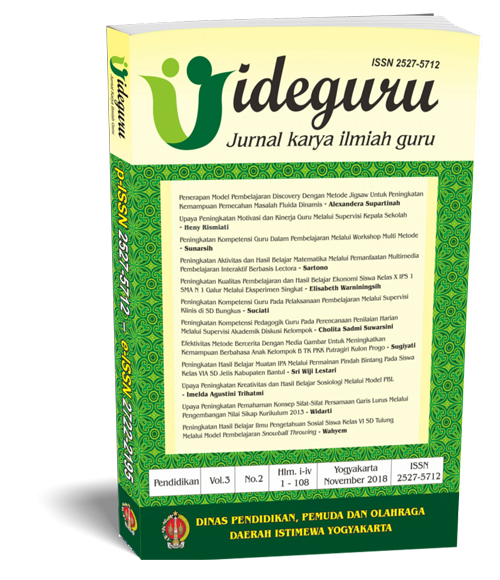 How to Cite:
Sunarsih, S. (2018). PENINGKATAN KOMPETENSI GURU DALAM PEMBELAJARAN MELALUI WORKSHOP MULTI METODE . Ideguru: Jurnal Karya Ilmiah Guru, 3(2), 17-22. Retrieved from https://jurnal-dikpora.jogjaprov.go.id/index.php/jurnalideguru/article/view/52
Section
Research Articles

Abstract viewed: 131 times

PDF downloaded: 466 times