UPAYA PENINGKATAN MOTIVASI DAN KINERJA GURU MELALUI SUPERVISI KEPALA SEKOLAH
Heny Rismiati

SD Sindet, Jetis, Bantul, D.I.Yogyakarta, Indonesia
Abstract
The purpose of this School Action Research is to: 1) increase teacher's motivation and performance in SD Sindet; 2) knowing the principal supervision in SD Sindet Jetis subdistrict; 3) knowing the efforts to increase the motivation and performance of teachers through supervision of principals in SD Sindet, Jetis Subdistrict, in academic year of 2017/2018. A teacher is required to have several abilities and skills as part of the teacher's professional competence. This School Action Research method consists of two cycles, each cycle carried out in two meetings. Each cycle consists of planning, action, observation, and reflection. Data collection techniques in this study was using observation and discussion (interview). Subjects of this srudy were 11 teachers, with 4 male teachers, and 7 female teachers. The results showed that there was an increase in teachers' motivation and performance after one-year school principal supervision on 2017/2018 in SD Sindet UPT PPK Jetis. Results of this study show that motivation reached form 80 (74%) in cycle I, to 83 (77%) in Cycle II. The performance value of the first cycle reached 61%, the second cycle reached 77%. While the Principal Supervision Value Cycle I reached 79%, the second cycle reached 82%. Based on the results of this school action research, it can be concluded that supervision of school principals may increase the motivation and performance of teachers.
Keywords:
work motivation, teacher performance, the principal supervision
PDF Downloads
Download data is not yet available.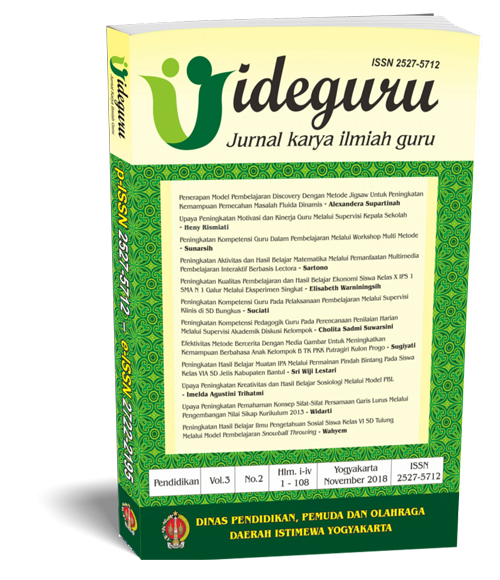 How to Cite:
Heny Rismiati. (2018). UPAYA PENINGKATAN MOTIVASI DAN KINERJA GURU MELALUI SUPERVISI KEPALA SEKOLAH. Ideguru: Jurnal Karya Ilmiah Guru, 3(2), 10-16. Retrieved from https://jurnal-dikpora.jogjaprov.go.id/index.php/jurnalideguru/article/view/51
Section
Research Articles

Abstract viewed: 111 times

PDF downloaded: 109 times