PENERAPAN MODEL PEMBELAJARAN DISCOVERY DENGAN METODE JIGSAW UNTUK PENINGKATAN KEMAMPUAN PEMECAHAN MASALAH FLUIDA DINAMIS
Alexandera Supartinah

SMA Negeri 1 Sewon, Indonesia
Abstract
The purpose of this study was to find out the improvement of problem solving ability on dynamic fluid in Physics among students after application of discovery learning models with the jigsaw method in XI IPA class. The subjects of this study were students of XI IPA 2 class. This study conducted at SMA Negeri 1 Sewon Bantul by using the Classrom Action Research method. The application of discovery learning models with the Jigsaw method conducted in the following activities steps: (1) Pray together led by one of the students, apperception activities, deliver the learning objectives; (2) provide important information of the meeting; (3) facilitating some students to form their new learning groups, then each of new groups learn and discuss the subject under teacher's monitoring; (4) facilitating each group member to separate and then form a new group of experts, each of groups learning and discussing the assignments under the teacher's guidance and monitoring; (5) facilitate each member of the expert group to separate and the members return to the original group to explain the subject to origin group members; (6) evaluating the results of learning outcome and each group was asked to presents the results of their work; (7) provide ways to respect both efforts and problem solving for both individuals and groups; (8) end the lesson by reinforce the important material and giving homework for the next meeting, so that students' problem solving abilities can be improved. Result of this study showed an increase of student's problem solving ability that can be seen from the increase in the average value of test from 61.29 in the first cycle which is still below the minimum completeness criteria, to 78.55 in the second cycle which is above the minimum completeness criteria.
Keywords:
jigsaw learning model, problem solving, learning outcomes
PDF Downloads
Download data is not yet available.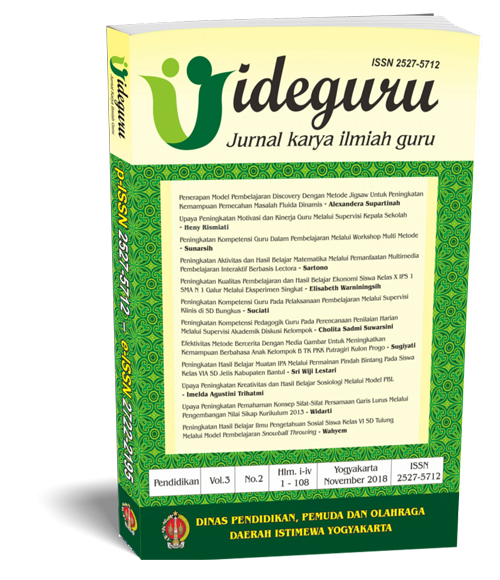 How to Cite:
Supartinah, A. (2018). PENERAPAN MODEL PEMBELAJARAN DISCOVERY DENGAN METODE JIGSAW UNTUK PENINGKATAN KEMAMPUAN PEMECAHAN MASALAH FLUIDA DINAMIS . Ideguru: Jurnal Karya Ilmiah Guru, 3(2), 1-9. Retrieved from https://jurnal-dikpora.jogjaprov.go.id/index.php/jurnalideguru/article/view/50
Section
Research Articles

Abstract viewed: 564 times

PDF (Bahasa Indonesia) downloaded: 365 times