PENINGKATAN KOMPETENSI GURU DALAM PEMBELAJARAN MELALUI METODE PEMANFAATAN RUANG AUDIO VISUAL (PRAVIL)
Sunarsih Sunarsih

SD 1 Patalan, Indonesia
Abstract
The purpose of this study was to improve learning competence by applying the "PRAVIL" (Pemanfaatan Ruang Audio Visual / the utilization of audio visual room) method among teachers in SD 1 Patalan. This study was a school action research. The subjects of this study were teacher of SD 1 Patalan in academic year of 2017/2018. This study was implemented in 2 cycles. Each cycle consists of 4 stages, namely planning, implementation, observation and reflection. There were 2 meetings in each cycle. Data in this study were collected by using questionnaire and observation sheet that analyzed by using qualitative descriptive technique. The results of this study showed that the teacher learning competencies has increased, marked by increasing at the percentage of teacher learning competencies in utilizing the audio visual space from 71.66% in the cycle I to 78.85% in cycle II. Thus it can be concluded that the "PRAVIL" method was able to improve the learning competence.
Keywords:
competence, The PRAVIL method
PDF Downloads
Download data is not yet available.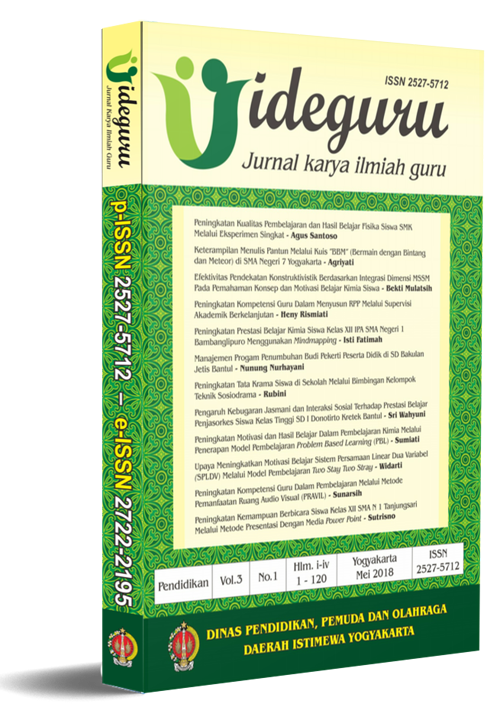 How to Cite:
Sunarsih, S. (2018). PENINGKATAN KOMPETENSI GURU DALAM PEMBELAJARAN MELALUI METODE PEMANFAATAN RUANG AUDIO VISUAL (PRAVIL). Ideguru: Jurnal Karya Ilmiah Guru, 3(1), 101-108. Retrieved from https://jurnal-dikpora.jogjaprov.go.id/index.php/jurnalideguru/article/view/48
Section
Research Articles

Abstract viewed: 102 times

PDF downloaded: 71 times