PENINGKATAN TATA KRAMA SISWA DI SEKOLAH MELALUI BIMBINGAN KELOMPOK TEKNIK SOSIODRAMA
Rubini Rubini

SMA N 1 Bambanglipuro Bantul, Indonesia
Abstract
This study aims to determine the influence of sociodrama group guidance to improve student manners in schools. This study was a classroom action research conducted in 2 (two) cycles. Data collection was used questionnaire and observation sheet. The questionnaire was used to collect data of student manners, while observation was used to collect data of the implementation of group guidance on the sociodrama technique and field notes. The manners measurement of each student was in the form of scores obtained from the questionnaire, the total score was then converted into qualitative data of five scale. The observation results of group guidance and manners measurement were descriptively analyzed. The results of the questionnaires in Cycle I showed score of 8.7 with 5 students showed a very good, good and moderate manners. No students had very low and very low manners. The results of manners questionnaires showed that from 10 indicators, there were 5 indicators that meet the success criteria, the value was shown 80% and more. While 5 indicators are still below the limits of the predetermined success criteria. In the Cycle II there were improvements. There were 11 students (61.11%) who had very good manners, and 7 students (38.89%) had high manners. No students had moderate, low and very low manners. After implementation the group guidance of sociodrama at cycle II, all indicators have reached above the minimum success criteria of 80%. The results of this study showed that providing the group guidance of sociodrama techniques may improve student manners.
Keywords:
manners, group guidance, sociodrama technique
PDF Downloads
Download data is not yet available.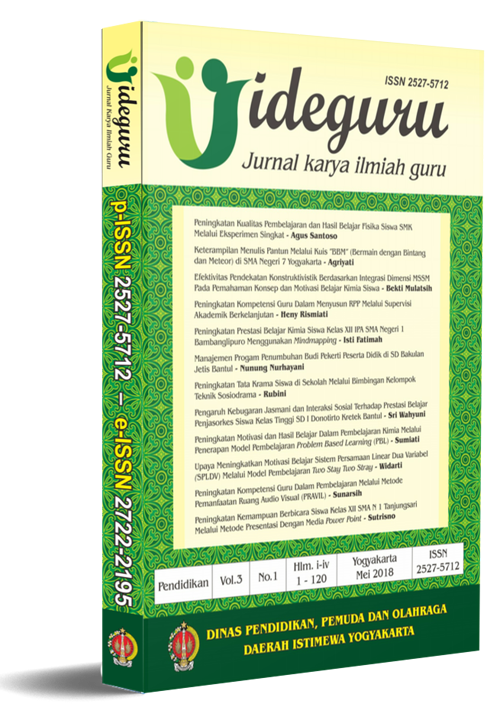 How to Cite:
Rubini, R. (2018). PENINGKATAN TATA KRAMA SISWA DI SEKOLAH MELALUI BIMBINGAN KELOMPOK TEKNIK SOSIODRAMA. Ideguru: Jurnal Karya Ilmiah Guru, 3(1), 61-72. Retrieved from https://jurnal-dikpora.jogjaprov.go.id/index.php/jurnalideguru/article/view/44
Section
Research Articles

Abstract viewed: 285 times

PDF downloaded: 816 times