PENINGKATAN PRESTASI BELAJAR KIMIA SISWA KELAS XII IPA SMA NEGERI 1 BAMBANGLIPURO MENGGUNAKAN MINDMAPPING
Isti Fatimah

SMA Negeri 1 Bambanglipuro Bantul, Indonesia
Abstract
This study aims to find a way to increase the student achievement in studying chemistry by using mind mapping method in class XII MIPA of SMAN 1 Bambanglipuro. This study was a classroom action research with qualitative descriptive approach. This study conducted in two cycle whith three meetings in each cycle. There were 33 students participated as subject in this study. Each meeting applied the following steps: planning, action, and reflection. The data collecting instruments in this study were questionnaire, observation sheets, field note, attitude scale, and achievement test (daily test). The result of this study indicates that by using mind mapping, the learning process became more effective, the student activity during the learning process also more effective, enjoyable, and joyful. The method has positive effect of increasing the student achievement in chemistry that can be known from: (a) the increase of student activity and students motivation in cycle I and II; (b) the increase of students achievement in cognitive aspect (student learning completeness standard from 77.53% in cycle I and 82.63% in cycle II), and in affective aspect from the level of enough become excellent in the end of the study. Result of the study also supported by the assessment in learning process which was held by the collaborator, from the classification of 50% good to 50% excellent.
Keywords:
mind mapping method, chemistry
PDF Downloads
Download data is not yet available.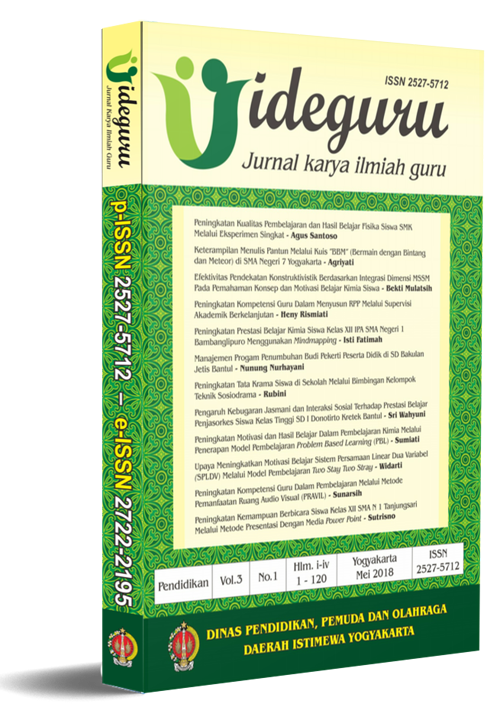 How to Cite:
Isti Fatimah. (2018). PENINGKATAN PRESTASI BELAJAR KIMIA SISWA KELAS XII IPA SMA NEGERI 1 BAMBANGLIPURO MENGGUNAKAN MINDMAPPING. Ideguru: Jurnal Karya Ilmiah Guru, 3(1), 40-51. Retrieved from https://jurnal-dikpora.jogjaprov.go.id/index.php/jurnalideguru/article/view/42
Section
Research Articles

Abstract viewed: 67 times

PDF downloaded: 69 times