Flipped Classroom Meningkatkan Keterampilan Berfikir Tingkat Tinggi dan Keaktifan Peserta Didik Pada Masa Pandemi
Siti Khasanah

SMK Negeri 1 Saptosari, Gunungkidul, Daerah Istimewa Yogyakarta, Indonesia
Abstract
The biology learning proccess in the x grade faced many obstacles when students must answer the HOTs questions (the high order of thinking) with conventional learning through leaturing method. This action research aims to describe the implementation of flipped classroom, students' activities and observing the development of their high order thinking skills. The research was done in two cycles, which in each cycle consists of 1) planning, 2) implementation, 3) observation and 4) reflection.  The results show that flipped classroom that was done in pandemic situation by utilizing the Google Classroom application for activities at home and the WhatsApp Group (WAG) application for face-to-face learning activities got good appreciation from students. The students enjoyed the learning activities used this model. The results of the study also showed that the achievement of higher order thinking skills from 54% in pre-cycle conditions increased to 57% in cycle 1 and 81% in cycle 2. The contribution of this study provides an alternative for learning biology, especially in biodiversity and genetic material on the HOTs achievement which focused on evaluation level by using flipped classroom. The activity was conducted with Flipped Classroom where the students learned and having group discussion at home on the material provided through video or comics, and it continued with disucssion between the teachers and students by face to face activites through whatsapp group.
Keywords:
flipped classroom, HOTs, biology
PDF Downloads
Download data is not yet available.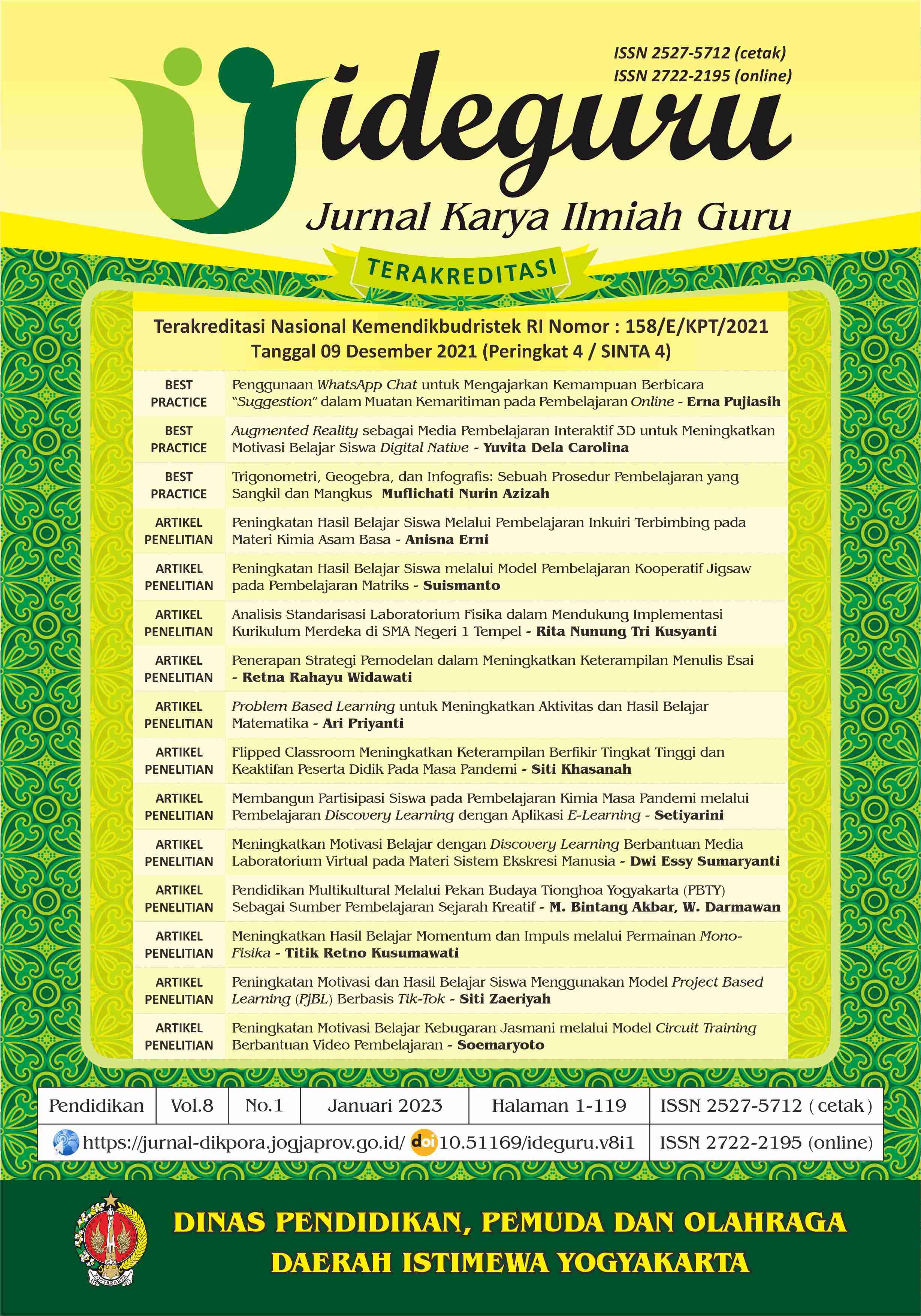 How to Cite:
Khasanah, S. (2022). Flipped Classroom Meningkatkan Keterampilan Berfikir Tingkat Tinggi dan Keaktifan Peserta Didik Pada Masa Pandemi. Ideguru: Jurnal Karya Ilmiah Guru, 8(1), 65-72. https://doi.org/10.51169/ideguru.v8i1.413
Section
Research Articles
Copyright (c) 2023 Siti Khasanah
This work is licensed under a Creative Commons Attribution 4.0 International License.

Abstract viewed: 332 times

PDF (Bahasa Indonesia) downloaded: 204 times