Perasaan Kesepian (Loneliness) Siswa SMP di Wilayah DIY dan Jawa Tengah pada Masa Pandemi Covid-19
Wahid Aditiono

SMP Negeri 12 Yogyakarta, Yogyakarta, Daerah Istimewa Yogyakarta, Indonesia

Dody Hartanto

Universitas Ahmad Dahlan, Daerah Istimewa Yogyakarta, Indonesia

Mufied Fauziah

Universitas Ahmad Dahlan, Daerah Istimewa Yogyakarta, Indonesia

Kuswindarti Kuswindarti

SMP Negeri 1 Nglipar, Gunungkidul, Daerah Istimewa Yogyakarta, Indonesia
Abstract
The purpose of this study was to measure the level of loneliness (loneliness) of students during the COVID-19 pandemic and post-pandemic. The method used in this research is for quantitative research using surveys. The research was conducted by distributing a Likert scale google form about loneliness which then the results of the data were analyzed by percentage. This research was conducted from April to June 2022. The subjects in this study were students in various regions in Indonesia, especially DIY and Central Java. The sample in this study was 983 respondents with data collection techniques carried out by random sampling. The results of this study indicate that the lonely level of students in the Very High category is 0.00%, 15.35% in the High category, 56.75% in the medium category, 28.12% in the low category, and 1.03% in the low category. Very low. In the age group, it shows that age has differences at every age level, the percentage of loneliness in vulnerable students aged 12-17 years shows the High category with 0.20% at the age of 12 years, 3.15% at the age of 13 years, 8.34% at the age of 14 years, 2.85% at the age of 15 years and 0.41% at the age of 16 while 0.20% of the age of 17 years. From these results, serious treatment is needed, namely by optimizing BK services in schools to reduce loneliness experienced by students in the age range of 12-16 years, namely at the SMP/MTs level so that it does not have a prolonged effect.
Keywords:
students, Covid-19 pandemic, loneliness
PDF Downloads
Download data is not yet available.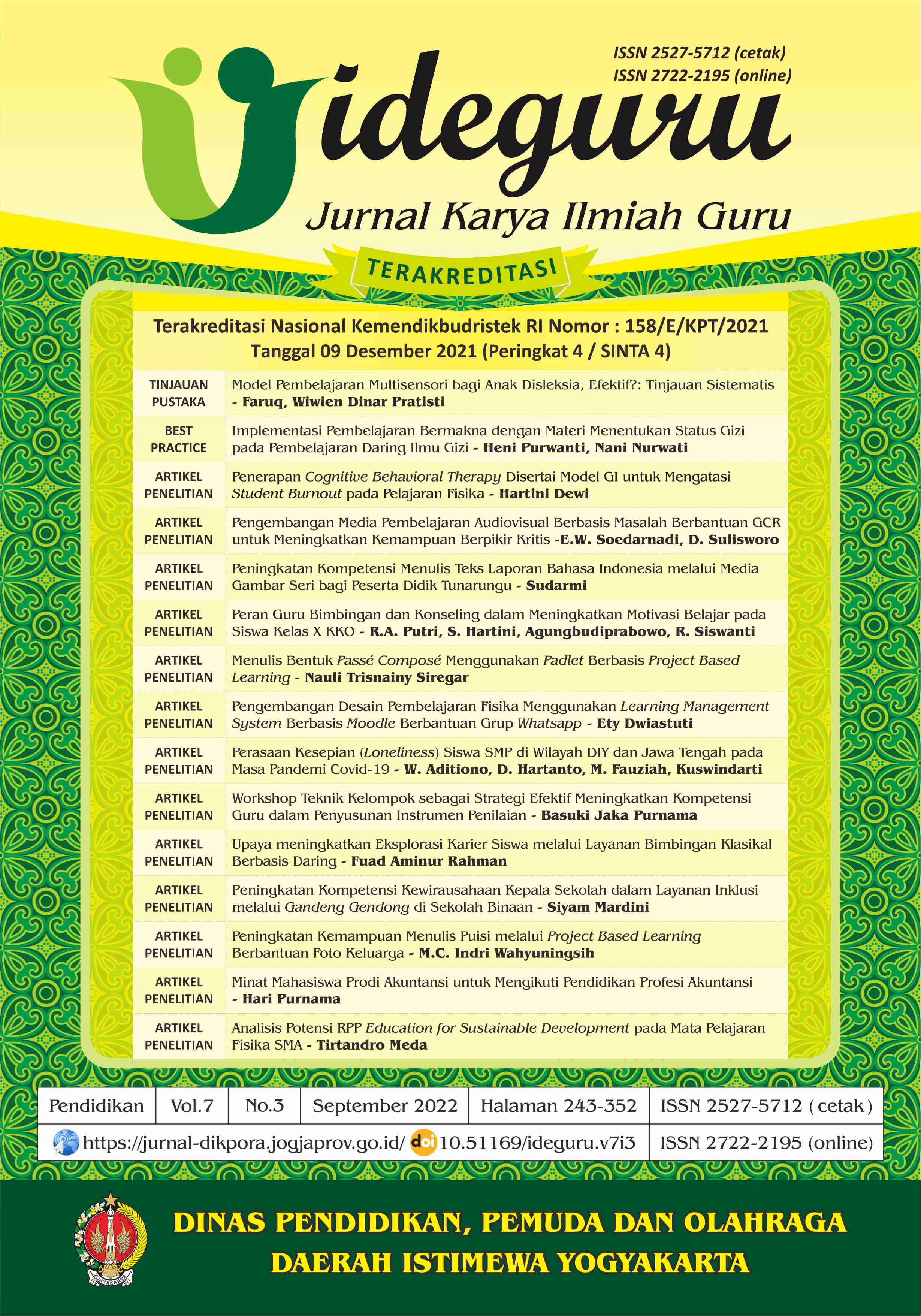 How to Cite:
Aditiono, W., Hartanto, D., Fauziah, M., & Kuswindarti, K. (2022). Perasaan Kesepian (Loneliness) Siswa SMP di Wilayah DIY dan Jawa Tengah pada Masa Pandemi Covid-19. Ideguru: Jurnal Karya Ilmiah Guru, 7(3), 301-307. https://doi.org/10.51169/ideguru.v7i3.411
Section
Research Articles
Copyright (c) 2022 Wahid Aditiono, Dody Hartanto, Mufied Fauziah, Kuswindarti Kuswindarti
This work is licensed under a Creative Commons Attribution 4.0 International License.

Abstract viewed: 652 times

PDF (Bahasa Indonesia) downloaded: 1226 times