PENINGKATAN KUALITAS PEMBELAJARAN DAN HASIL BELAJAR FISIKA SISWA SMK MELALUI EKSPERIMEN SINGKAT
Agus Santoso

SMK Negeri 1 Ngawen Gunungkidul, Indonesia
Abstract
This study aims to find out whether a short experimental activity improve the quality of physics learning process as well as improve the quality of student learning outcomes in SMK 1 Ngawen. The type of this study is classroom action research conducted at class XI TI.B in SMK Negeri 1 Ngawen, from February 2018 until April 2018. Subjects of this study were 32 students, and the study was conducted in two cycles. Data in this study collected by using observation, interview, tests and documentation. Data analysis was done by qualitative descriptive technique and data stated in percentage. The results of this study showed that the short experiment learning model can be done effectively and efficiently as well as able to improve the learning quality, as it was indicated by the high student interest during the learning process, characterized by high student activity both in cycle I and cycle II. Similarly, the cognitive aspect showed the minimum school learning completeness standard as it reached 73% in cycle I and then rose to 81.1% in cycle II, which was categorized as very well completeness standard.
Keywords:
learning outcomes, short experiments, learning quality
PDF Downloads
Download data is not yet available.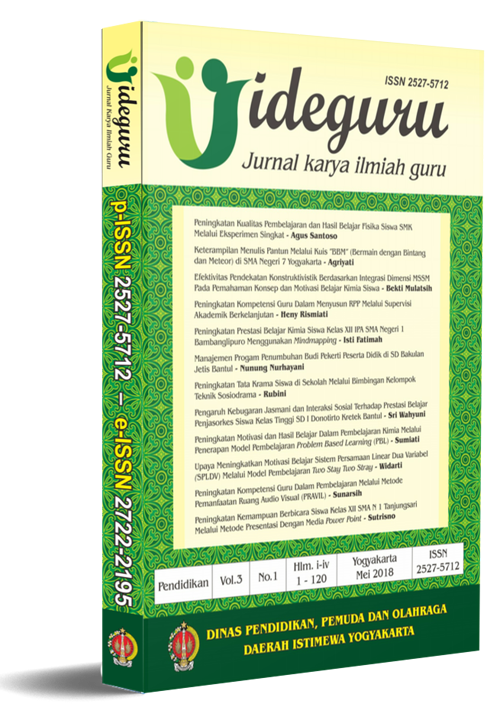 How to Cite:
Agus Santoso. (2018). PENINGKATAN KUALITAS PEMBELAJARAN DAN HASIL BELAJAR FISIKA SISWA SMK MELALUI EKSPERIMEN SINGKAT . Ideguru: Jurnal Karya Ilmiah Guru, 3(1), 1-8. Retrieved from https://jurnal-dikpora.jogjaprov.go.id/index.php/jurnalideguru/article/view/38
Section
Research Articles

Abstract viewed: 63 times

PDF downloaded: 42 times