PENGEMBANGAN MULTIMEDIA PEMBELAJARAN INTERAKTIF TEMA ORGAN TUBUH MANUSIA DAN HEWAN UNTUK KELAS V SEKOLAH DASAR
Sartono Sartono

SD Negeri Semen, Sentolo, Kulon Progo, Indonesia
Abstract
The theme of human and animal organs is the sixth theme in the fifth grade elementary school. Judging from the characteristics of its contents, this theme contains a lot of learning material about the process flow, for example: the process of digestion, respiration process, and the process of blood circulation. This learning material is difficult to understand the students if used the textbook only. We provide a concrete visualization of the learning material to help students learn the material and also to increase students interest. The aim of the research is to produce an interactive multimedia learning on the second sub-theme of the human and animal organs for fifth grade elementary school. The research used Research and Development design with Lee and Owens model. There were five steps: (1) assessment/analysis (need assessment and front-end analysis; (2) design; (3) development; (4) implementation; (5) evaluation. The product was validated by experts and users. The data were collected by  questionnaire. The data were analized by quantitative and qualitative data analysis. The results of research showed that the expert validation and testing of the user obtained an average score of 94,4%, then it was converted into the validity criteria, it showed very valid qualification and can be used in the learning process.
Keywords:
development, interactive multimedia learning, themes of human and animal organs
PDF Downloads
Download data is not yet available.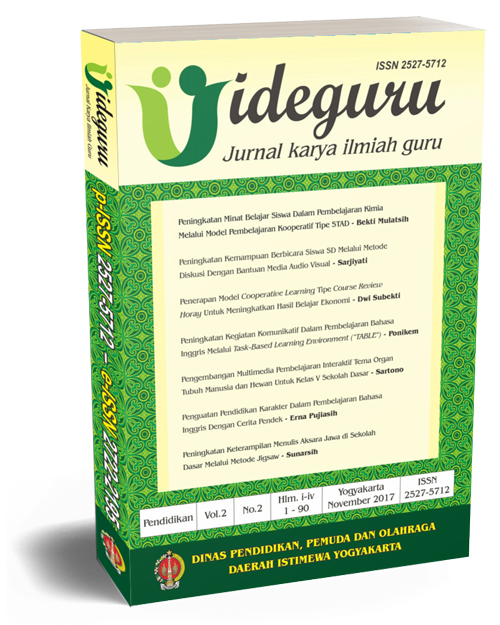 How to Cite:
Sartono, S. (2017). PENGEMBANGAN MULTIMEDIA PEMBELAJARAN INTERAKTIF TEMA ORGAN TUBUH MANUSIA DAN HEWAN UNTUK KELAS V SEKOLAH DASAR. Ideguru: Jurnal Karya Ilmiah Guru, 2(2), 60-73. Retrieved from https://jurnal-dikpora.jogjaprov.go.id/index.php/jurnalideguru/article/view/35
Section
Research Articles

Abstract viewed: 240 times

PDF downloaded: 1061 times