Improving Creativity and Online Business Learning Outcomes through Demonstration Method
Windu Mahmud

SMK Negeri 1 Bantul, Indonesia
Abstract
This research aims to increase student creativity and learning outcomes of online business in class XI BDP 1 SMK N 1 Bantul. This research is a Classroom Action Research (CAR) with 2 (two) cycles. Each cycle goes through 4 (four) stages starting from planning, implementing, observing and reflecting. The subjects of this study are 29 students in grade XI BDP 1 at SMK Negeri 1 Bantul in the 2019/2020 academic year. The Collecting data technique in this study is using written tests, observations, field notes, and documentation. The data analisys of action research technique used quantitative descriptive techniques. The results of the research indicate that the application of the demonstration method can increase creativity and learning outcomes of class XI BDP 1 SMK N 1 Bantul in Online Business subjects for the 2019/2020 academic year. The application of the demonstration method is in accordance with the lesson plan, creativity and student learning outcomes have increased in each cycle. It is proven by the increase of value in the research instrument. In the observation sheet of leraning creativity, it was obtained a value of 48.42 with a lack of criteria at the initial observation stage, in the first cycle the value increased to 58.55 with sufficient criteria and in the second cycle the value was 67.53 with good criteria. In addition, classical completeness in the evaluation of learning outcomes also increased, at the initial evaluation classical completeness was 31.03%, in cycle I increased to 48.28% and in cycle II classical completeness became 72.41%.
Keywords:
creativity, student learning outcomes, demonstration methods
PDF Downloads
Download data is not yet available.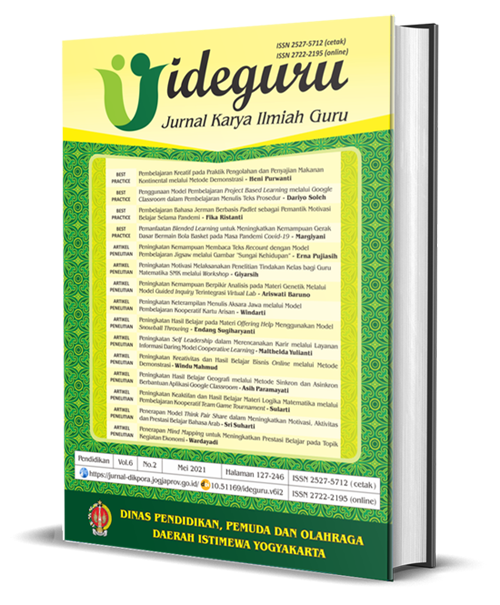 How to Cite:
Mahmud, W. (2021). Improving Creativity and Online Business Learning Outcomes through Demonstration Method. Ideguru: Jurnal Karya Ilmiah Guru, 6(2), 207-215. https://doi.org/10.51169/ideguru.v6i2.230
Section
Research Articles
Copyright (c) 2021 Windu Mahmud
This work is licensed under a Creative Commons Attribution 4.0 International License.

Abstract viewed: 182 times

PDF (Bahasa Indonesia) downloaded: 238 times