IMPROVING STUDENT'S ACHIEVEMENT AND RESPONSE IN LINEAR EQUATION SYSTEM WITH THREE VARIABLES BY USING GROUP INVESTIGATION IN CLASS X MIPA 4 SMA N 1 BANGUNTAPAN
Suranten Suranten

SMA Negeri 1 Banguntapan , Indonesia
Abstract
This study aims to improve student achievement and response material in the three-variable linear equation system by applying the Group Investigation Learning Model to the 10th grade Mathematics and Natural Sciences students of SMA Negeri 1 Banguntapan Bantul in the 2019/2020 Academic Year. The research process begins with an observation method conducted by researchers, observers and research subjects. The data collection was carried out in two stages, namely the results of the odd semester 2019/2020 midterm assessment data as preliminary data, and the final data on the results of the daily assessment after the action was taken. This study used an observation sheet for the implementation of the learning process, a questionnaire and a test question sheet. The number of subjects in this study were 36 students. Action research with the Group Investigation model lasted for 2 cycles with 2 times each of each cycle and one assessment. Data analysis uses quantitative descriptive analysis methods in the form of numerical data and qualitative descriptions of observational data that need to be analyzed simply to describe the facts that occur. The results showed the Group Investigation learning model can be applied well and an increase in student achievement and response from cycle 1 and cycle 2.
Keywords:
learning achievement, student response, group investigation
PDF Downloads
Download data is not yet available.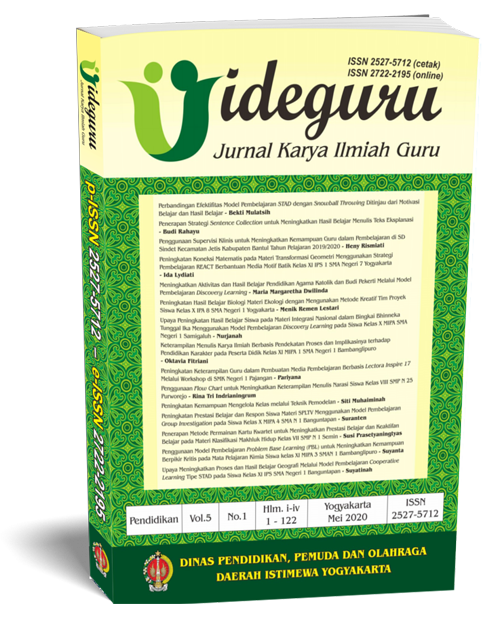 How to Cite:
Suranten, S. (2020). IMPROVING STUDENT'S ACHIEVEMENT AND RESPONSE IN LINEAR EQUATION SYSTEM WITH THREE VARIABLES BY USING GROUP INVESTIGATION IN CLASS X MIPA 4 SMA N 1 BANGUNTAPAN. Ideguru: Jurnal Karya Ilmiah Guru, 5(1), 92-99. https://doi.org/10.51169/ideguru.v5i1.117
Section
Research Articles
Copyright (c) 2020 Suranten Suranten
This work is licensed under a Creative Commons Attribution 4.0 International License.

Abstract viewed: 131 times

PDF (Bahasa Indonesia) downloaded: 231 times