IMPROVING TEACHER'S ABILITY IN MAKING INSTRUCTIONAL MEDIA BY USING LECTORA INSPIRE 17 THROUGH WORKSHOP AT SMK NEGERI 1 PAJANGAN
Pariyana Pariyana

SMK Negeri 1 Pajangan Bantul, Indonesia
Abstract
This study aims to improve teachers' commitment and skil at SMK Negeri 1 Pajangan Kabupaten Bantul in making instructional media Lectora Inspire 17 through workshop activities. This research is school action research with the subjects of this research were PNS teachers of SMK Negeri 1 Pajangan and the numbers are 31 (thirty one) teachers. They were 14 (fourteen) teachers of Normatif Adaptif, 5 (five) teachers of KKKR, 6 (six) teachers of RPL, and 6 (six) teachers of DPIB. This research consists of two cycles, each cycle carried out stages of planning, implementation, observation and reflection. The data collection technique used triangulasi through observing workshop activities, teachers' activities, and the evaluation of teaching media. The data was analyzed using descriptive analysis. This result shown that the degree of teachers' skills with competen were 25,81% (8 teachers), Cycle I increased 61,29% (19 teachers), and Cycle II increased 87,10% (27 teachers), so there was increasing between pre cycle and Cycle I 35,48% , between cycle I and cycle II increased 25,81%. Based on data analysis could be concluded that workshop activities could improve teachers' skills at SMK Negeri 1 Pajangan in making instructional media Lectora Inspire 17.
Keywords:
skills, workshop, instructional media
PDF Downloads
Download data is not yet available.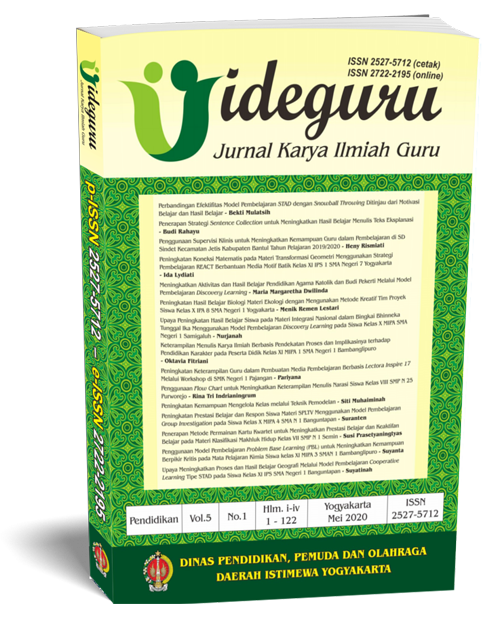 How to Cite:
Pariyana, P. (2020). IMPROVING TEACHER'S ABILITY IN MAKING INSTRUCTIONAL MEDIA BY USING LECTORA INSPIRE 17 THROUGH WORKSHOP AT SMK NEGERI 1 PAJANGAN. Ideguru: Jurnal Karya Ilmiah Guru, 5(1), 66-74. https://doi.org/10.51169/ideguru.v5i1.114
Section
Research Articles
Copyright (c) 2020 Pariyana Pariyana
This work is licensed under a Creative Commons Attribution 4.0 International License.

Abstract viewed: 161 times

PDF (Bahasa Indonesia) downloaded: 339 times