ENHANCING THE MATHEMATICAL CONNECTION ABILITIES ON GEOMETRY TRANSFORMATION BY REACT LEARNING STRATEGY USING BATIK PATTERN MEDIA XI IPS 1 SMA NEGERI 7 YOGYAKARTA
Ida Lydiati

SMA Negeri 7 Yogyakarta, Indonesia
Abstract
This study aims to find out how to improve students' mathematical connection abilities in the Geometry Transformation material through the REACT strategy using batik motif media in class XI IPS 1 of SMA Negeri 7 Yogyakarta. This research is a classroom action research conducted during two cycles. Each cycle consists of planning, action, observation, and reflection. The results showed that to improve students' mathematical connections can be done by: (a) relating, students are given the opportunity to link the material studied in Geometry Transformation with everyday life through real examples in the Student Activity Sheet containing geometric motifs in Yogyakarta batik. Every student is encouraged to express their opinions in solving problems, both in writing and orally; (b) experiencing, students are accustomed to building their own knowledge / concepts through the process of learning activities and teaching materials that have been prepared; (c) applying, students are trained to apply concepts to solve mathematical problems and problems from the daily lives of students; (d) cooperating, students are trained to make agreements to determine the best solution. If there are differences in the answers / solutions to a problem on individual tasks or group assignments then each group member must play an active role in achieving learning objectives; (e) transferring, students use the knowledge they have in a new context through the application of concepts obtained either in Mathematics problems or in real life related to Yogyakarta batik motifs.
Keywords:
connecting mathematical ability, REACT stategy, batik motif media
PDF Downloads
Download data is not yet available.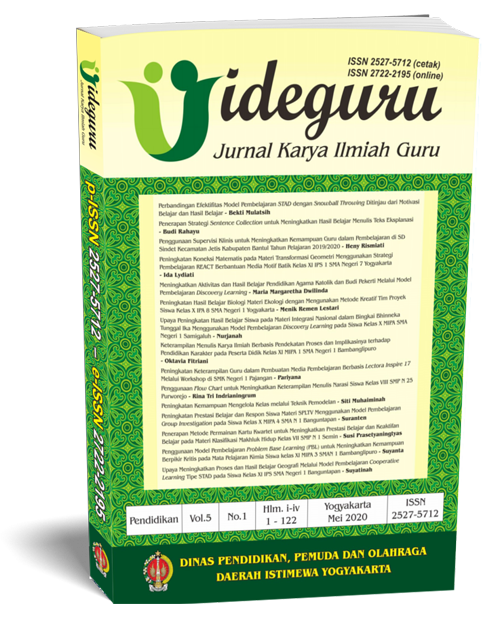 How to Cite:
Ida Lydiati. (2020). ENHANCING THE MATHEMATICAL CONNECTION ABILITIES ON GEOMETRY TRANSFORMATION BY REACT LEARNING STRATEGY USING BATIK PATTERN MEDIA XI IPS 1 SMA NEGERI 7 YOGYAKARTA. Ideguru: Jurnal Karya Ilmiah Guru, 5(1), 25-33. https://doi.org/10.51169/ideguru.v5i1.109
Section
Research Articles
Copyright (c) 2020 Ida Lydiati
This work is licensed under a Creative Commons Attribution 4.0 International License.

Abstract viewed: 651 times

PDF (Bahasa Indonesia) downloaded: 595 times