UPAYA MENINGKATKAN HASIL BELAJAR MATA PELAJARAN IPS MELALUI METODE GROUP INVESTIGATION SMP 3 IMOGIRI
Alfi Syukriyati

SMP Negeri 3 Imogiri, Indonesia
Abstract
Some existing problems in social studies are students' lack of interest, overloaded learning materials, and low student learning outcomes. The most urgent problem to be solved in social studies learning is the low student learning outcomes. This study aims to improve the learning outcomes in social studies, through Group Investigation method. It was conducted in class IX A Junior High School 3 Imogiri totaling 23 students.

This study is a Class Action Research conducted in three cycles.  It focuses on the improvement of the student learning outcomes in every cycle. The Step in this research include  planning, action, reflection / evaluation and follow up. The data where gathered from competency fest result compared to the set minimum standard or the mimimum mastery criterion, and the scores of students work.

The results of this study was an increase in student learning outcomes. It achieved the minimum mastery criterion, of the competency test, amounting to 34.78% in cycle 1, 63.64% in cycle 2, and 78.26% in cycle 3. The level of students activity reached 52.17% in cycle 1, 86.36% in cycle 2, and 91.30% in cycle 3. The average score of the results of the student worksheets were 76.66 in cycle 1, 86.36 in cycle 2 and cycle 3 91.66.
Keywords:
Learning Outcomes, Subject IPS, Group Investigation Method
PDF Downloads
Download data is not yet available.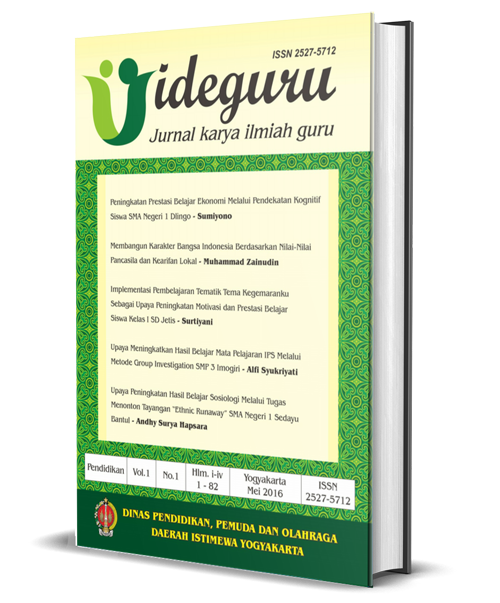 How to Cite:
Syukriyati, A. (2016). UPAYA MENINGKATKAN HASIL BELAJAR MATA PELAJARAN IPS MELALUI METODE GROUP INVESTIGATION SMP 3 IMOGIRI. Ideguru: Jurnal Karya Ilmiah Guru, 1(1), 40-64. Retrieved from https://jurnal-dikpora.jogjaprov.go.id/index.php/jurnalideguru/article/view/10
Section
Research Articles

Abstract viewed: 247 times

PDF downloaded: 928 times